Workshops and Come and Sing Days
Follow us and subscribe to our Youtube Channel
Coming next
Come and Sing Day
September 3rd,2022
St Mary's Church Hall, Church St
Twickenham, TW1 3NJ
Mozart Vesperae solennes de confessore K 339
Haydn Missa in Augustiis (Nelson Mass)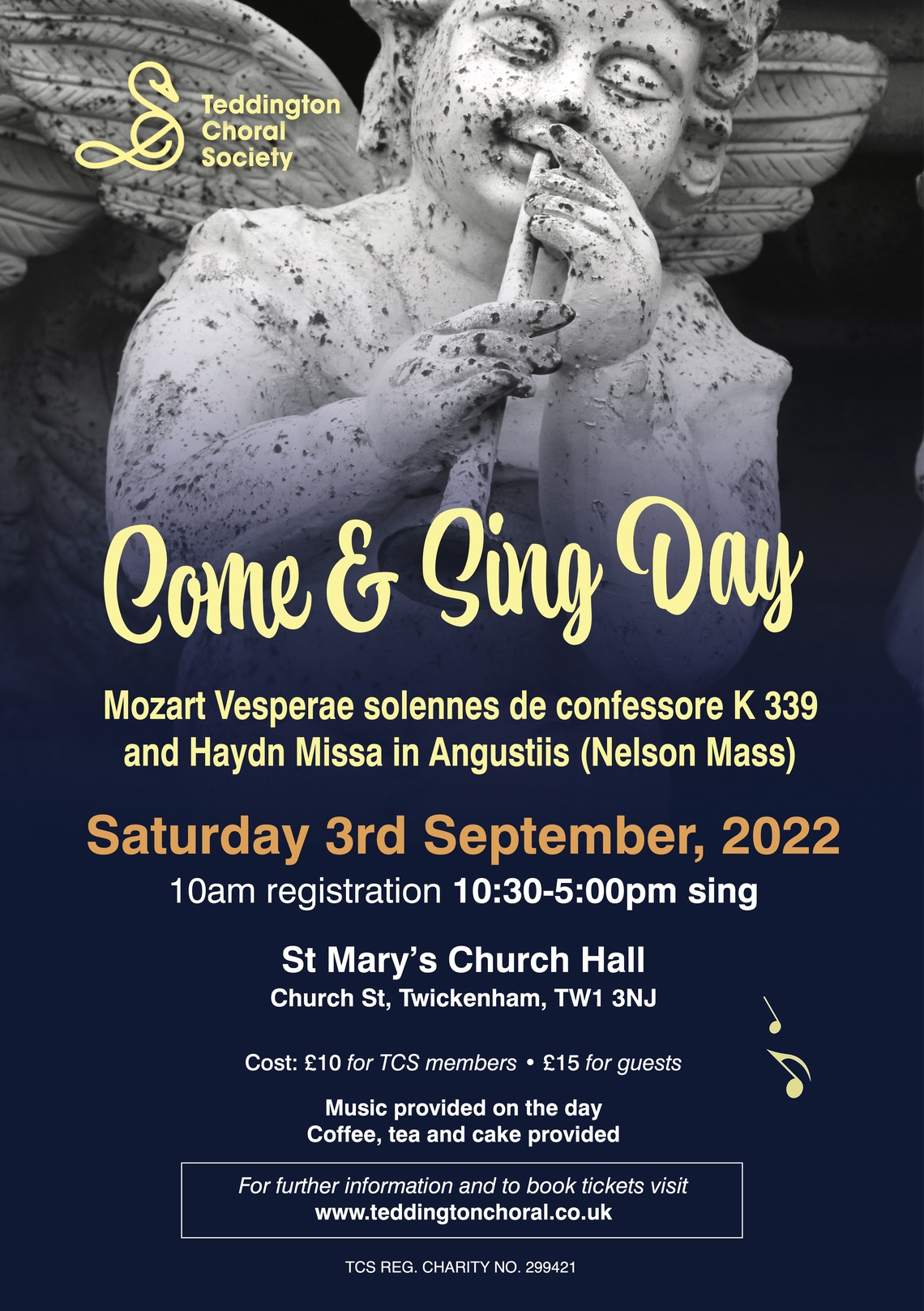 Registration will start at 10am.
The singing will start at 10:30 and will finish at 5:00pm.
Booking:
Cost: £10 for TCS members, £15 for guests.
*Eventbrite:
*At the door
Coffee, tea and cake will be provided
Nearby transports:
Twickenham station
Buses: 33, R68, 490, 267, H22, 281
Contact us if you have questions
***************************
Spring Workshop Saturday 29 February 2020
Singing Brahms Requiem, wonderful music led by Julian with Phil Culling (piano).Choir Vocal Training from Laurel Neighbour who held 1:1 singing lesson slots, these were all taken.
Amazing home baking for refreshments too!..thanks to all.
And some special presents to welsome back our lovely secretary Jean!
Autumn Workshop October 26, 2019
Another productive day of work with Julian Collings, our two fantastic guests Vocal Coaches Kate Bishop and Paul Hopwood and Phil Culling our accompanist.
2019 Come and Sing Day, Saturday 9 March 2019
TCS and Julian Collings had an effective and productive day of work!

*2018 COME & SING DAY Saturday 10 February 2018
TCS, Sam Evans MD, Kerry McDunnough & Alastair Brookshaw - Vocal Coaches for a special workshop.
September 23, 2017 Workshop
**************