Follow us and subscribe to our Youtube Channel
Back to our rehearsals on Monday 10th, 2022
St Catherine's School, Twickenham
7:45pm
********************************************
Find here an amazing article written by Teddington nub news about us and our coming concert:
⟹ Click here ⟸
********************************************
Here a lovely picture of our previous rehearsal exceptionally at St Mary's Church in Twickenham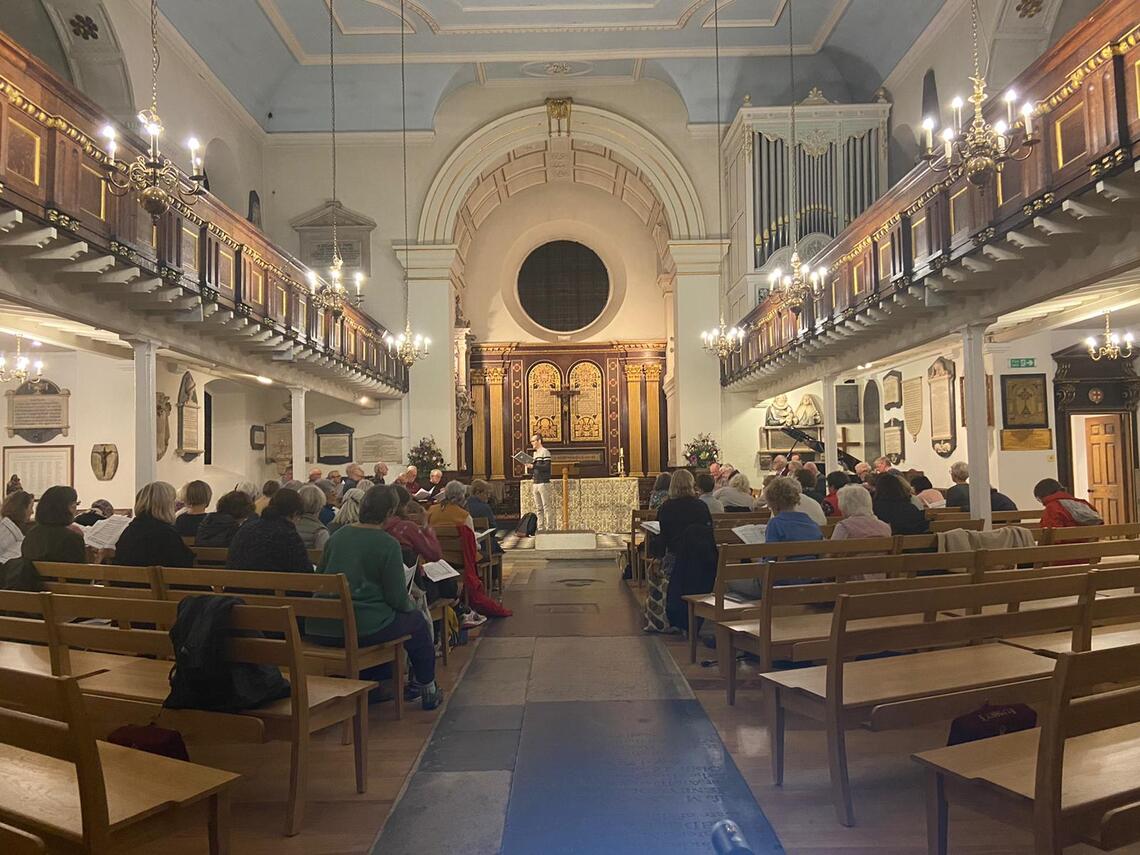 ***********************************
About Teddington Choral Society
TCS is back to weekly rehearsals follwing current guidelines. Rehearsing for the 70 Anniversary concert with a programme od favourites voted by TCS singers.
TCS is once more featured on Teddington Nub News. Read about how TCS and the wide sector of amateurs choirs were affected by the Government Guidance restrictions applied to the Non-Professional Music industry.
https://teddington.nub.news article /n/teddington-choir-overjoyed-to-be-rehearsing-together-again-but-continue-to-slam-"ill-considered"-government-guidelines
***********************************
SUMMER 2021
TCS went back to 'in person' rehearsals in an open space.
We want to thank Orleans House Gallery and The Stables Café to have allowed us to use their beautiful Courtyard.
Click → here to go to our gallery and see the pictures of our lovely and moving outdoor rehearsals.
***********************************
VIRTUAL CHRISTMAS CONCERT 2020
The traditional Christmas Concert was not possible, but here is the performance:
Virtual Christmas Concert | Teddington Choral Society:
TCS hopes you will enjoy listening this medley as much as they enjoyed singing it: (Ding Dong Merrily on High, Charles Wood/Woodward; Coventry Carol, Arr. Martin Shaw; Sans Day Carol, Arr. J.Rutter; The Holly and The Ivy, Arr. H Walford Davies; Nativity Carol, Words/Music J. Rutter; In the Bleak Midwinter, Arr J. Rathbone; We Three Kings, Arr J. Rathbone and We wish you a Merry Christmas, Arr J. Rathbone).
-Our MD Julian Collings and our accompanist Phil Culling for all their support during these past months.
-Our Chair person Rebecca Clarke for her amazing work and dedication to keep the choir active and motivated and push us out of our comfort zones!
-Seamus and all his tremendous IT work behind the scenes.
-All the singers who joyfully played the game either by singing physically or at home or by following and supporting from home!
Wishing you all a Merry Christmas and a Happy New Year hoping we can soon meet again for a real performance!
***********************************
BRAHMS REQUIEM IN GERMAN October 19th, 2020
To celebrate managing seven weeks of weekly live singing during Covid restrictions, Teddington Choral Society is delighted to present some snippets of one of their groups performing a staged rehearsal of A German Requiem by Brahms. We have had two groups attending weekly live rehearsals under strict Covid-19 restrictions and have had another group at home participating in the rehearsals via live-stream. All groups have been working hard and whilst we can't wait until it is safe for us to all sing together again, we are happy that we are managing to keep our choral community together. Huge thanks to our Musical Director, Julian Collings, and our accompanist, Phil Culling as well as our committee for all the hard work they've put into making our rehearsals work. Thanks to Seamus for editing & assisting with the recording of this particular rehearsal. If you are interested in viewing the whole recording please contact us and we will supply you with a link.
Brahms Requiem Rehearsal concert video 1
Brahms Requiem Rehearsal concert Video 2
Brahms Requiem Rehearsal concert video 3
Brahms Requiem Rehearsal concert video 4
Brahms Requiem Rehearsal concert video 5
******************************
TCS is featured on Teddington Nub News website. Read all about our premiere Youtube Virtual Summer Concert which took place last July 18, 2020.
https://teddington.nub.news/n/teddington-choral-society-summer-concert-is-a-smash-hit
******************************
TCS is delighted to share with the local community one of theirlock down projects. Virtual Performances, which are a new entry in their range of activities, have been a lot of fun to do, listen and watch. Have a look at Mozart Requiem Lacrimosa, published on Arts Richmond website.
http://www.artsrichmond.org.uk/event-detail.php?eventid=7870&catid=5&id=94
TCS sadly postponed the Summer performances which was due to take place on July 2020 & 2021
In the meantime the choir is still managing to sing together with many Virtual Performance projects and is preparing to sing together again as soon as it will be safely possible. Stay logging in!
******************************
See the article published in the "Teddington Nub News". (Click here below)
https://teddington.nub.news/n/teddington-choral-society
******************************
TCS was delighted to see the article published in both TW Magazines: Teddington and TW Magazine Twickenham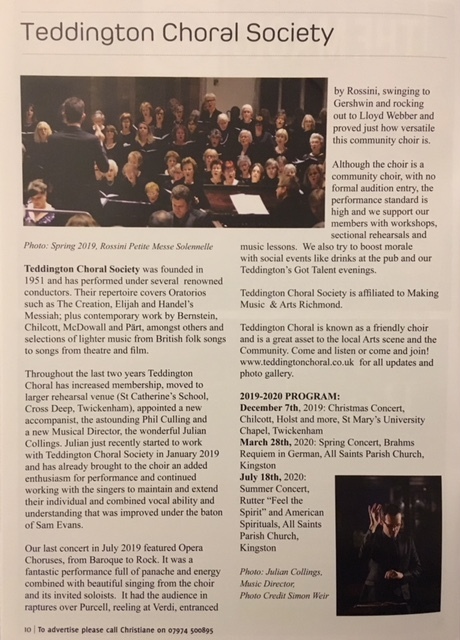 ******************************
Jonathon Welch and t

he History of Choir of Hard Knocks
This is a very touching and very interesting coverage on Jonathon Welch and the history of the Choir of Hard Knocks THECHO!R Fan Page. We hope to have the opportunity to join in the future Jonathan for another fantastic concert such as the Street Requiem Sing The World with Jonathon Welch which we performed in September 2018!
Click here to watch the coverage: >Australian Story, 1 September 2019<
TCS on Radio Surrey >click<
******************************
TCS took part in the Barbican Library exhibition which presents a wide variety of Choirs an Musical Communities all around UK.
******************************
TCS is delighted to see their participation to the Street Requiem concert mentioned in the Spring Edition of Highnotes magazine: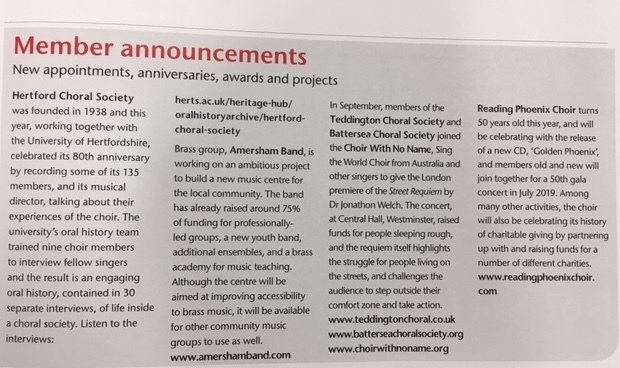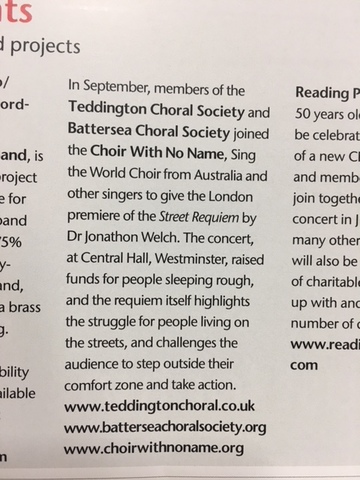 TCS was very pleased with the t

otal raised from its Christmas Concert 2018 for CWNN - £569.33- The Choir with No Name. Thank you for all your generosity

TCS was delighted to welcome Julian Collings as its new Music Director. We are looking forward to starting this new page of TCS history. Welcome Julian!
TCS is delighted to support CWNN- Choir With No Name*

CWNN encompasses their choirs in London, Liverpool and Birmingham, choirs for the homeless & marginalised; rehearsing & enjoying a hot meal together each week. They perform at concerts such as

The Choir with No Name's Big Christmas Singalong!


Tuesday 11 December 2018, 7.30pm.

Cadogan Hall, 5 Sloane Terrace, Belgravia, London SW1X 9DQ

Find out more: https://www.choirwithnoname.org/

TCS is pleased to support local charity SPEAR by collecting clothing items & more.
'Teddington's Got Talent' was Saturday 29 February 2020 & January 2019. Singing, dance, juggle, magic tricks...? A highly entertaining evening...
TCS was very pleased to be part of the London Premier 'The Street Requiem'.With Dr Jonathon Welch & singers from Battersea Choral Society. On Friday 28 September 2018, Central Hall Westminister, London SW1 9NH. Performing with 'The Choir with No Name

*

The Highland Divas, Sing the World Choir & David Shannon
TCS looks forward to posting photos of the concert. Here are the post concert tributes to Rebecca Clarke, TCS Chair & London Rep for the concert and Phil Culling, Pianist + practising 'Like a Singing Bird' by Chilcott.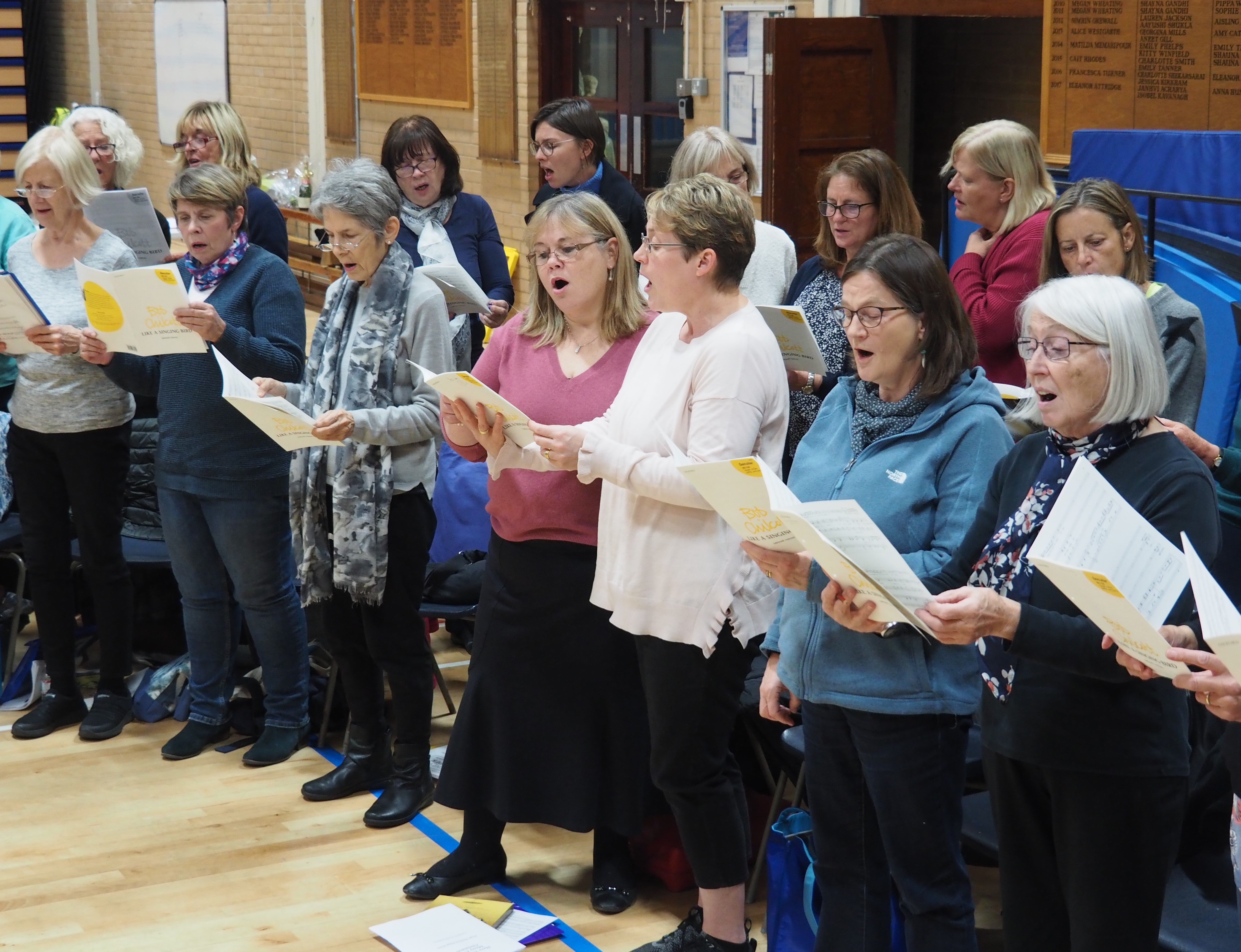 Our last Sing Days. Held September 2018, September 2017 & February 2018 . In February we had a great day singing all together; focus on technique and the two Haydn Masses.Individual lessons were all taken up.
TCS Members' Other News & Photos on 'Members Only' Dropdown
Other Items:
A small group of us sang Carols at Richmond Train Station at Christmas for charity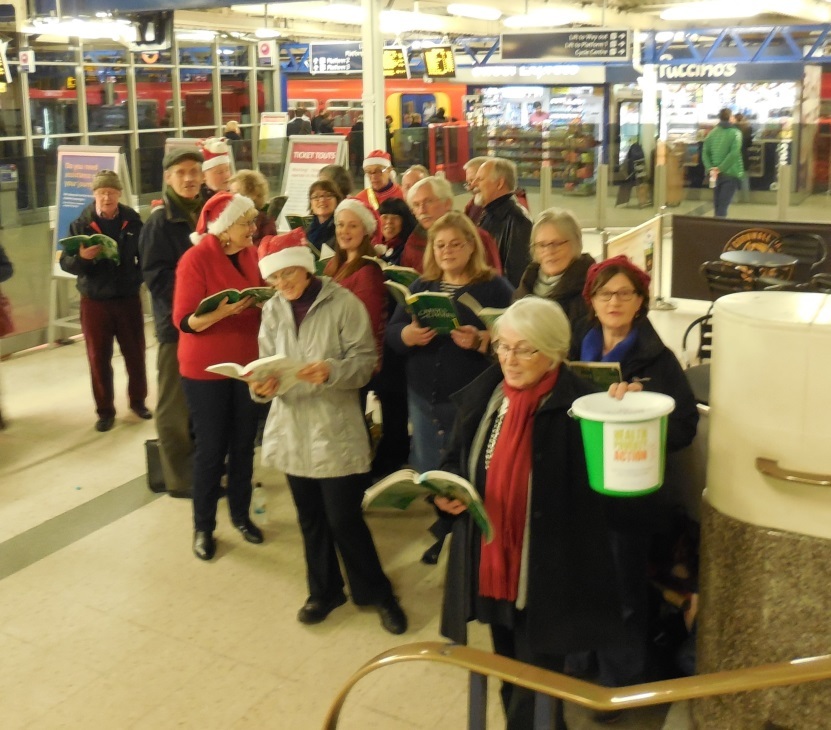 Health Poverty Action write:
Dear Teddington Choral Society,
THANK YOU SO MUCH FOR YESTERDAY- your choir were absolutely phenomenal again and I thoroughly seeing you all again and hearing your lovely voices! Did the choir enjoy themselves too? Thanks for organising!!
I have just counted the donations from last night and you managed to raise a wonderful £471.18! WOW! Testament to how great all your voices were. I really appreciate you giving up your time to sing for us!
https://www.healthpovertyaction.org/
PHIL CULLING. TCS was delighted to welcome Phil Culling as our Accompanist in January 2017
Our next term's rehearsal

will start on Monday 9h September 2019
We welcomed REBECCA CLARKE was voted in as CHAIR in November 2016.
CHORAL WORKSHOP 2016

,(Below) Mendelssohn's Elijah with Sam Evans & Arlene Rolph. A Joyful and instructive workshop & vocal technique day with a very good attendance.

THE THEORY OF EVERYTHING

- look for the TCS choir member in this Oscar winning film!
WINNERS

OF A CIVIC PRIDE AWARD:

From the London Borough of Richmond - Awarded for the ethos of all- incusiveness & the WW1 Concert 'Christmas Truce'
SOUNDBITES:

'For contemporary music and established classics, Teddington Choral

Society

offers the perfect evening of entertainment

'-

Richmond & Twickenham Times
'The diction of the choir was superb' 'The performance of In Terra Pax was wonderful'
******************************