Teddington Choral Society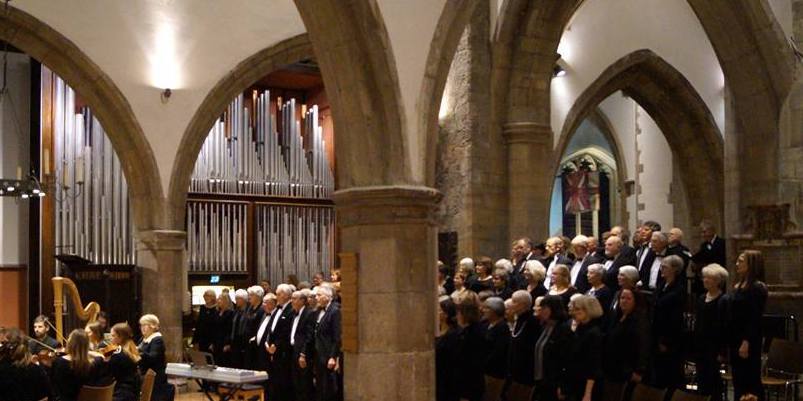 TCS Christmas Concert
Photo courstesy of Doug Goodman PR
Teddington Choral Society (TCS) rehearses during term time on Monday evenings from 7:45 pm to 9:45 pm at our new venue at St Catherine's School, Cross Deep, Twickenham,TW1 4QJ. See below for an update during Clovid 19.

The Musical Director Julian Collings was appointed to take over as MD early in 2019. Over the last few years the choir has enjoyed a growing reputation for its repertoire of outstanding contemporary music alongside the established classics. Phil Culling is the exceptional accompanist.

TCS is currently around 120 strong; new singers are welcomed for 'taster sessions', particularly male voices, but there is a waiting list for higher voices.
Three main concerts are performed during the year and workshops are a regular feature, plus social evenings.
With past successes and imaginative programming, TCS is thriving. New singers are welcome, regardless of age; especiallly those who enjoy their music making. We like to rehearse and perform with our sense of humour switched on.
Rebecca Clarke
********************************
Due to the current pandemic situation and the Governmental guide lines we unfortunately had to suspend our physical rehearsals.
But we were back to our zoom sessions on Monday 4th working on a fun repertoire: Music in the Movies!
Keep checking for more news in the near future!
********************************
Our Christmas Concert is now available!
Click Here to watch our Virtual Christmas Concert!
********************************
Click here to read more about our news and to watch some snippets of the staged rehearsal of A German Requiem by Brahms that one of our group performed on October 2020.

********************************
Keep logging in for more information
**********************************
Follow & like Teddington Choral Society on social media: