Teddington Choral Society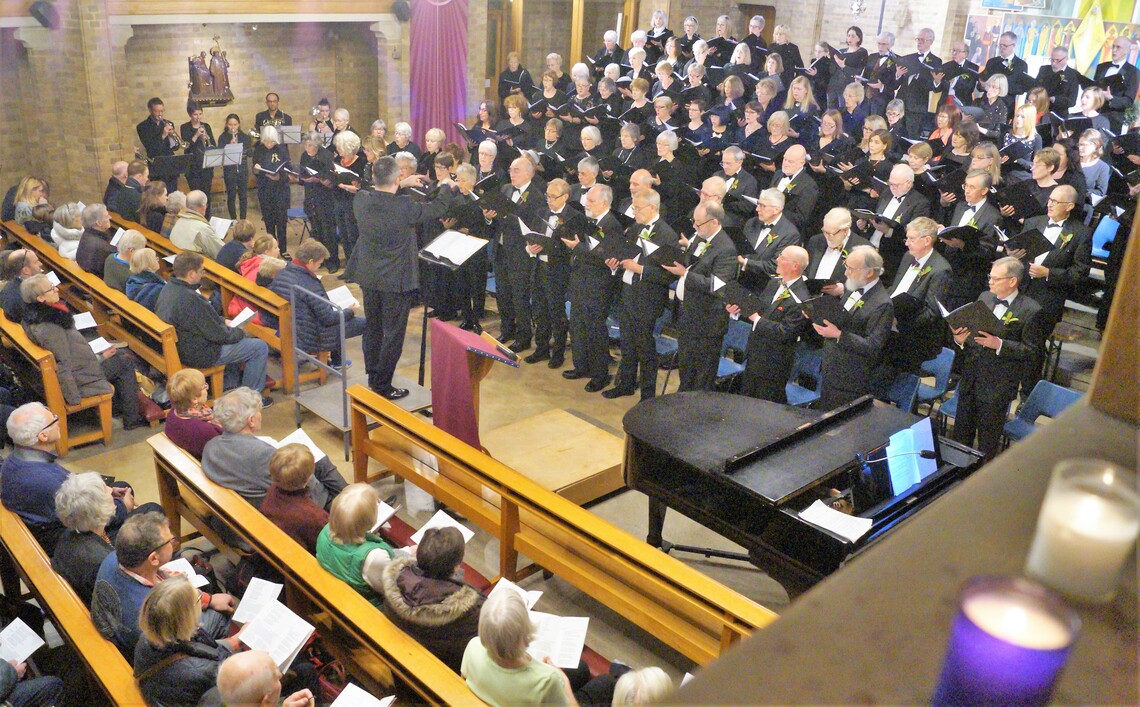 TCS Christmas Concert 2017 at St Mary's University Chapel, Twickenham. Conducted by Sam Evans, MD.
Photo courstesy of Doug Goodman PR
Teddington Choral Society (TCS) rehearses during term time on Monday evenings from 7:45 pm to 9:45 pm at our new venue at St Catherine's School, Cross Deep, Twickenham,TW1 4QJ . Our Musical Director Julian Collings has been appointed to take over as MD early in 2019. Over the last few years the choir has enjoyed a growing reputation for its repertoire of outstanding contemporary music alongside the established classics. Phil Culling is the exceptional accompanist.

TCS is currently around 120 strong; new singers are welcomed for 'taster sessions', particularly male voices, but there is a waiting list for higher voices.
We perform three main concerts a yearand hold workshops,plus social evenings.
With past successes and imaginative programming, TCS is thriving. We are always glad to welcome new singers, regardless of age; especiallly those who enjoy their music making. We like to rehearse and perform with our sense of humour switched on.
Rebecca Clarke
Chair of TCS.
*****************************
Teddington Choral Society Spring Concert.
Rossini Petite Messe Solennelle and more.
April 6th, 2019 at All Saints Kingston at 7:30pm
Teddington Choral Society are excited to perform Rossini's Petite Messe Solennelle under the baton of their new Musical Director Julian Collings. The choir will be accompanied by Phil Culling on piano and Benedict Lewis-Smith on harmonium. The concert will feature soprano Joanna Marie Skillet, mezzosoprano Judy Brown, tenor John Findon and bass Jon Stainsby. The evening will also include a performance of Easter Hymn from the opera Cavalleria Rusticana by Mascagni. This will give the audience a taste of what is to come in Teddington Choral Society's Summer Concert.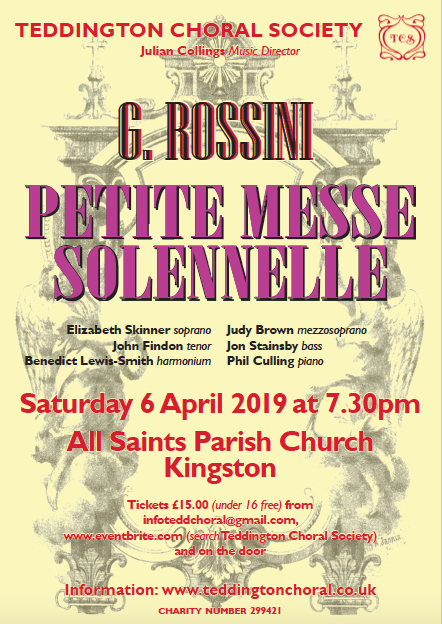 For eventbrite tickets purchase click → Rossini Petite Messe ←
For more information →click here ←
***********************************************
TCS is supporting The Choir With No Name:
->Click here for more information<-

Follow & like Teddington Choral Society on social media: