News About Teddington Choral Society
TCS is working now for its next concert:

Christmas concert on Saturday December 9th, 2017 at St Mary's University Chapel, Twickenham, TW11 8LA
TCS will welcome a Brass Ensemble and the soloist, Charles MacDougall, a successful International Tenor with a background of Early Music and Church Music, Director of both the Landmark Singers and the Encore community choir.


Mondays..... rehearsing 2017 Christmas Music
Next Workshop: Saturday 10th February 2018. 10-5pm. 1:1 Singing Lessons available.Working on Vocal technique, performance skills & refreshing two Haydn Masses

Our last Sing Day. Held Saturday 23rd Semptember . We had a fun day singing all together; focus on technique and the two Haydn Masses.Individual lessons were taken by Kerry McDunnough
TCS Members' News & Photos on 'Members Only' Dropdown
Other Items:

A small group of us sang Carols at Richmond Train Station on Thursday 8 December 2016 for charity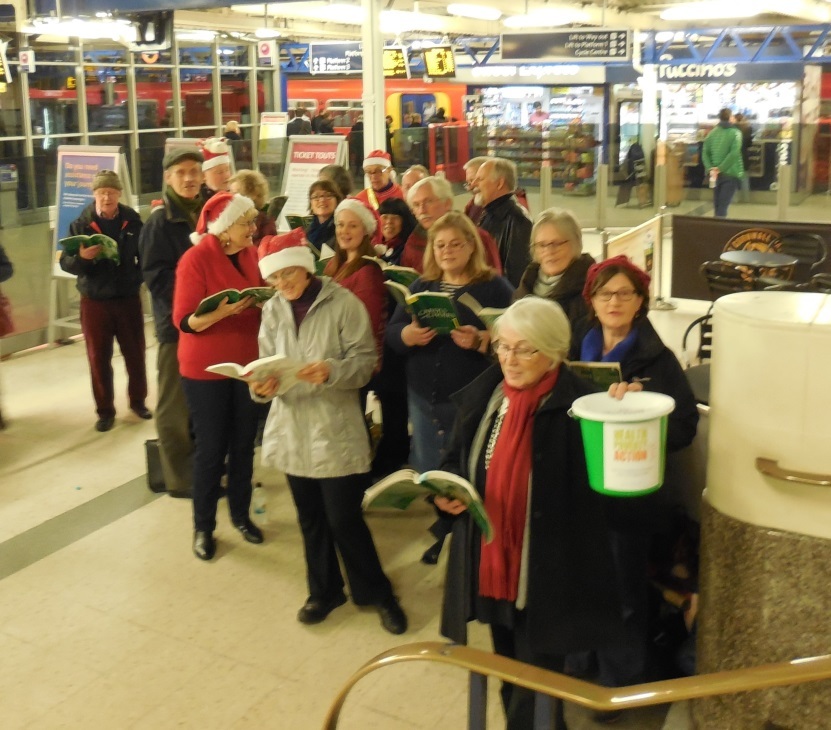 Health Poverty Action write:
Dear Teddington Choral Society,
THANK YOU SO MUCH FOR YESTERDAY- your choir were absolutely phenomenal again and I thoroughly seeing you all again and hearing your lovely voices! Did the choir enjoy themselves too? Thanks for organising!!
I have just counted the donations from last night and you managed to raise a wonderful £471.18! WOW! Testament to how great all your voices were. I really appreciate you giving up your time to sing for us!
https://www.healthpovertyaction.org/
PHIL CULLING.

TCS is delighted to welcome Phil Culling as our

Accompanist

in January 2017
Our next term's rehearsal will start on Monday 8th January, 2018.
We welcomed REBECCA CLARKE AS OUR NEW CHAIR in November 2016.

SAM EVANS our MD joined us in September 2015 who has a wealth of choral experience and enjoy lively and stimulating rehearsals, vocal techique and with his direction, have staged four marvelous concerts.
CHORAL WORKSHOP 2016

,(Below) Mendelssohn's Elijah with Sam Evans & Arlene Rolph. A Joyful and instructive workshop & vocal technique day with a very good attendance.

THE THEORY OF EVERYTHING

- look for the TCS choir member in this Oscar winning film!
WINNERS

OF A CIVIC PRIDE AWARD:

From the London Borough of Richmond - Awarded for the ethos of all- incusiveness & the WW1 Concert 'Christmas Truce'
SOUNDBITES:

'For contemporary music and established classics, Teddington Choral

Society

offers the perfect evening of entertainment

'-

Richmond & Twickenham Times
'The diction of the choir was superb' 'The performance of In Terra Pax was wonderful'
******************************