Teddington Choral Society - Home
Teddington Choral Society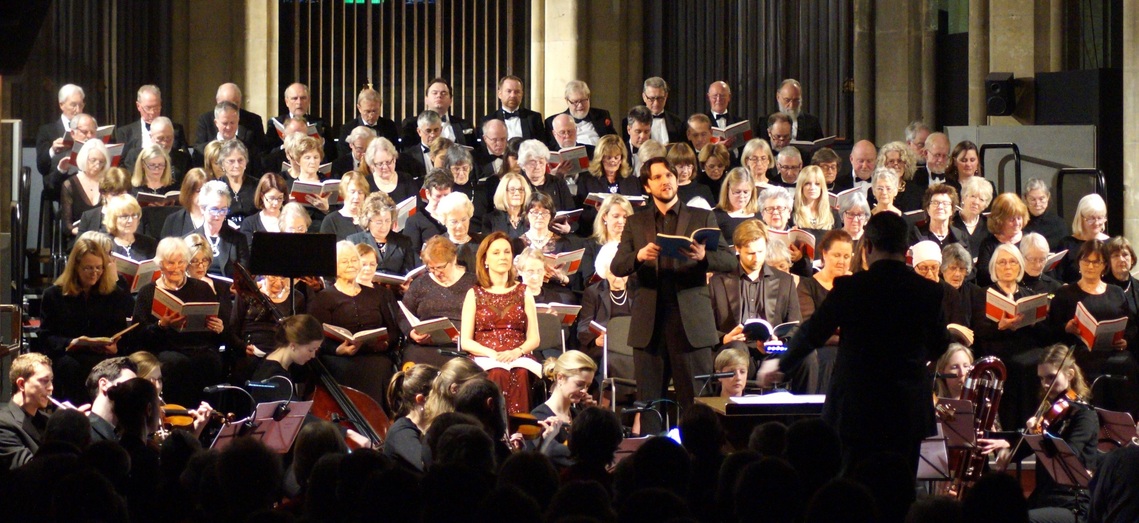 TCS Sing The Creation March 2016 at The Landmark Arts Centre. Conducted by Sam Evans, MD.
Photo courstesy of Doug Goodman PR
Teddington Choral Society (TCS) rehearses during term time on Monday evenings from 7:45 pm to 9:45 pm at our new venue at St Catherine's School, Cross Deep, Twickenham,TW1 4QJ . Our Musical Director is Samuel Evans. Over the last few years the choir has enjoyed a growing reputation for its repertoire of outstanding contemporary music alongside the established classics. Our accompanist Hannah Parry joined the choir early in 2015.
The Autumn season opens with our → September Sing Day ← click to obtain details and application form - this will be on Saturday 3rd September at St Catherine's School, our new rehearsal venue. This will be a lively, instructive event that is open to all, we will be using Elijah and singers can book a 1:1 session and learn techniques from our visiting vocal coach. Word Version
Autumn Rehearsals start Monday 5th September at 7pm.
TCS is currently around 100 strong; we are always on the lookout for new singers, particularly male voices.
We perform three main concerts a year. On Saturday 3rd December at Kingston (All Saints) Parish Church we will give a traditional Carol Concert with guest choirs St Pauls Junior School Kingston Hill and Kingston University Chamber Choir. In the Spring our performance will be Elijah on Saturday 1st April at the Landmark Centre accompanied by an orchestra and professional soloists. The Summer Concert is of a lighter nature.
With past successes and our imaginative choice of future programmes, TCS is thriving. We are always pleased to welcome new singers, regardless of age, especially those who enjoy their music making: we do like to rehearse and perform with our sense of humour switched on!
Kate Livingston,
Chair,
TCS
Teddington Choral Society is a registered charity (No 299421) affiliated to Making Music and Arts Richmond.