Teddington Choral Society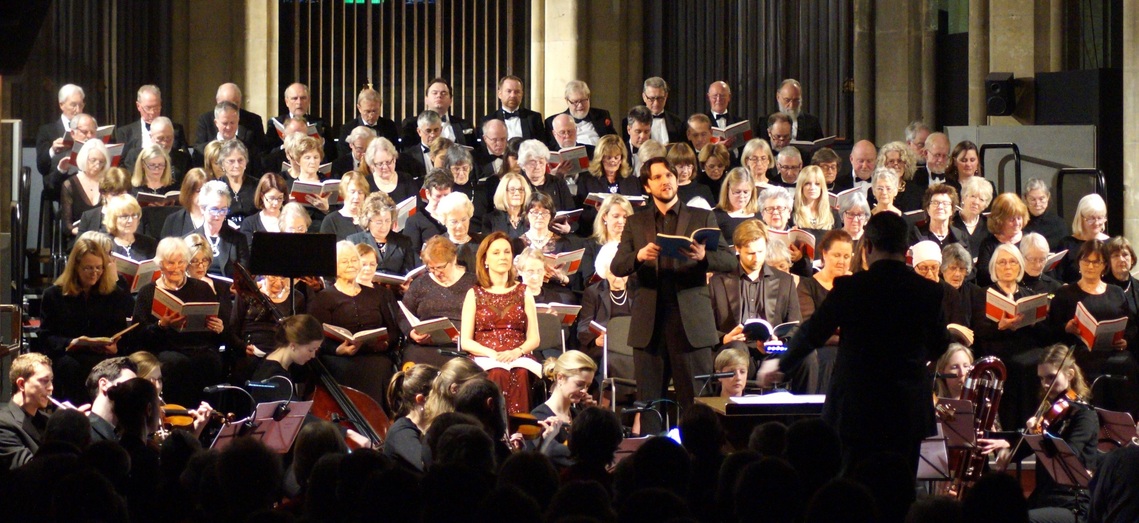 TCS Sing The Creation March 2016 at The Landmark Arts Centre. Conducted by Sam Evans, MD.
Photo courstesy of Doug Goodman PR
Teddington Choral Society (TCS) rehearses during term time on Monday evenings from 7:45 pm to 9:45 pm at Twickenham United Reformed Church, First Cross Road, Twickenham Green. The choir is very pleased to appoint a new Musical Director, Samuel Evans. Over the last few years the choir has enjoyed a growing reputation for its repertoire of outstanding contemporary music alongside the established classics. Our accompanist Hannah Parry joined the choir early in 2015.
TCS is currently around 100 strong; we are always on the lookout for new singers, particularly male voices.
We perform three main concerts a year. The Spring Concert is our serious one, usually a major oratorio or operatic piece, in which we are accompanied by an orchestra and professional soloists. The Summer Concert is of a lighter nature, the theme is to be 'Draw On Sweet Night' and to held on Saturday 2 July 2016. In December we give a traditional Carol Concert at which we also perform longer works; in recent years, we have been accompanied by a children's choir from a local junior school and professional musicians. In addition, we usually perform an Autumn Concert, either as part of the international Voices for Hospices movement or in collaboration with a local symphony orchestra.
In addition to our weekly rehearsals, we usually hold at least one vocal workshop each year - this is a lively, instructive event in which choir members learn techniques from our visiting vocal coach Viv Munday.
With past successes and our imaginative choice of future programmes, TCS is thriving. We are always pleased to welcome new singers, regardless of age, especially those who enjoy their music making: we do like to rehearse and perform with our sense of humour switched on!
Kate Livingston,
Chair,
TCS
Teddington Choral Society is a registered charity (No 299421) affiliated to Making Music and Arts Richmond.